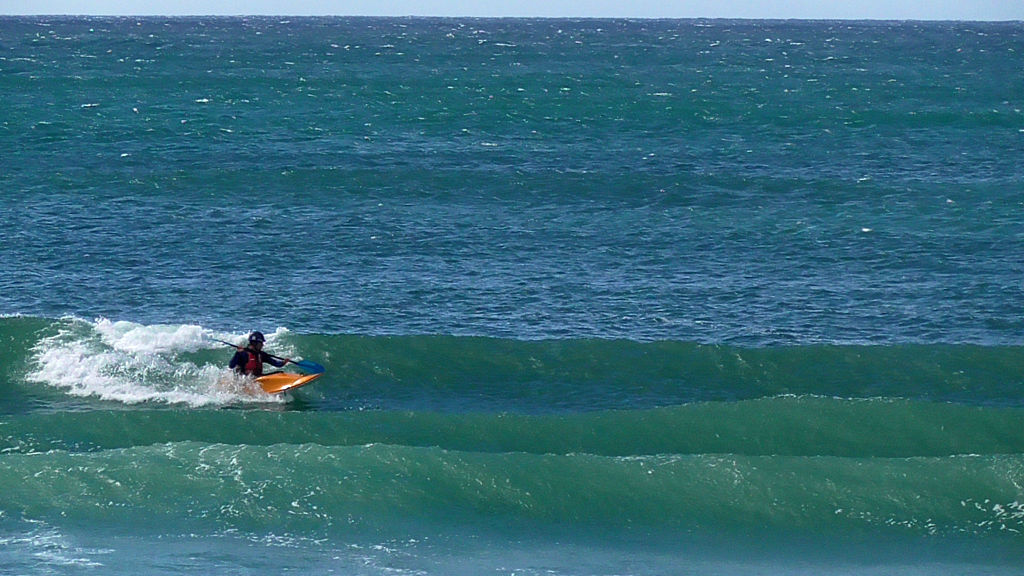 FAQ's about Kayak Surfing Trips to Brittany
John-Paul Eatock (Surf Kayak Coaching and Lizard Adventure) leads the surf kayak trips to Brittany. We've been running Surf kayak trips to Brittany since 2018, with each year building on the last to find the best surf as well as the tastiest patisserie's! Les Pins is a brilliant venue allowing us to camp or stay in Chalets for a very reasonable price just a short drive away from many fantastic beaches on the Crozon peninsula, they even let us run a rolling session in their pool!
The Crozon offers so many different angles of beaches so that no matter what direction the swell or how big it is we can find the perfect kayak surfing spot!
What's Included?
Full coaching/guiding on the water. Transport of your kayak and equipment if required.
What level paddler do I need to be?
We are happy to work with novice through to advanced.  Once the surf kayakers have shared their level of experience and aspirations with us, we endeavour to pick the best spot to suit your ability and needs.
What will I need to bring?
We can hire out the equipment to you, however it is best if you bring your own water gear as you know how it works best.  If you need surf kayak gear, please go to .
If you are camping then you will need all of your own camping gear, if you are in the chalets then these do have basic cooking utensils. We would recommend to bring food, aiming to top up whilst you are in France (we find the wine and bread particularly agreeable).
You will also want to bring a memory stick to keep all of the video footage that will be taken to help with your personal development and coaching.
What is not included that I will need to budget for?
Your ferry fee, sustenance, camping and adequate insurance.   For the overnight ferry you will need to book a reclining seat or more.  For the day time ferry you will not have to book a seat etc unless you choose to.  We would recommend that you go in your own vehicle to allow yourself flexibility.  If you wish to share one of our vehicles, or split the cost with another client please get in touch with us.
Where
Based out of Camping Les Pins but depending on conditions and your ability we will be surfing at any of the many options on the Crozon Peninsula!
When
September 9th – 13th 2024
Lizard Adventure Head Office
6 Bodriggy Villas, Hayle, Cornwall, TR27 4PG