2019 Symposiums and Brittany Trip
Building on the success of previous events, Surf Kayak Coaching are pleased to announce more dates for next year.  There will be two Cornwall symposiums, again based in the stunning St Ives Bay, Cornwall. The Brittany Trip in September was a huge success and the plan is to develop this event further, again joining with sea kayakers and Rick Cooper (British Sea Kayaks). See below for the plan for this year – this will be updated soon with details for 2019.
Our symposiums have a real focus on providing quality coaching sessions in the right conditions for learning. St Ives Bay is well known to surf kayakers from around the country providing a perfect learning environment from small waves over gentle sand bars at the west to larger waves onto a perfect beach break in the East (and everything in-between). With one coach to every six participants and a maximum of 30 participants, you'll have a personal experience. Our aim is for you to thoroughly enjoy the weekend and to come away with a new or much improved set of skills and a huge smile on your face. Download the FAQs for more detail about what is involved and what you need. The cost is £110 per person for the coaching with accommodation fees paid direct to Beachside Holiday Park.

Dates for 2019
Surf Kayak Symposium (South West) Spring 27-28th April and Autumn 12-13th Oct.
Brittany Trip dates 23rd – 27th Sept.
To get on the list for April, Oct, Brittany or all 3! Please contact us
Follow the events on Facebook
ONLINE BOOKING : Coming Soon
Sorry, this calendar requires javascript in order to work.
Surf and Sea Kayak Brittany - Sept 2018
Rick Cooper (British Sea Kayaks) and John-Paul Eatock (Surf Kayak Coaching and Lizard Adventure) have joined forces to combine their expertise in both Surf and Sea Kayaking to deliver a trip to Brittany to challenge and suit your paddling needs.  Experts in their field, they are excited to share with you the best the Brittany coast has to offer, using their high level coaching and guiding experience plus an intimate knowledge of the area.
What level paddler do I need to be?
For Surf kayaking, we are happy to work with novice through to advanced.  Once the surf kayakers have shared their level of experience and aspirations with us, we endeavour to pick the best spot to suit your ability and needs. For sea kayaking, this trip will best suit paddlers who have a fairly reliable roll, are comfortable with rescues and are keen to further build their confidence in more bouncy water.
Where?
The plan is to be flexible, given the weather, with a focus around La Pointe du Raz at the westernmost tip of Finistère, or Pen-Ar-Bed in the local language of Breton. It means Land's End and it really feels like the end of the earth. From the clifftops you can see the curvature of the earth and the coastline has a real sense of myth and legend. For the courageous and skilled paddler it offers  tidal races, amazing scenic paddling and a range of suitable surf beaches.
We will base ourselves at a campsite that is typically Breton, just minutes from our favourite beach. It's perfectly placed for taking advantage of spectacular paddling to the North, South, East and West. This little campsite is a hidden gem. There's a tiny bar, hot showers, drying lines and nice flat pitches. A shop is nearby and of course a selection of bakeries for the all-important croissants and pain-au-chocolat. What more do we need?
When?
Departure: Wed 19 Sep 2018, 22:00.  Arrival: Thurs 20 Sep 2018 08:00 To Departure: Mon 24 Sep 2018. 15:00. Arrival: Mon 24 Sep 2018 20:10
The dates have been chosen to take best advantage of the tides and the warm, clear September water.
What's included?
Full coaching/guiding on the water. Transport of your kayak and equipment if required.
What will I need to bring?
We can hire out the equipment to you, however it is best if you bring your own water gear as you know how it works best.  If you need surf kayak gear, please go to annette@surfkayakcoaching.com.  If you need sea kayak gear, please go to rick@britishseakayaks.co.uk
You will also need to bring your own camping gear and we would recommend to bring food, aiming to top up whilst you are in France (we find the wine and bread particularly agreeable).  If you are surf kayaking, bring a memory stick to keep all of the video footage that will be taken to help with your personal development and coaching.
What is the cost?
The cost for the trip coaching is £385pp.  If you want to try your hand at both surf and sea, please give us some notice so that we can staff and equip it correctly.
How do I book?
If you are planning to predominantly Surf, please contact annette@surfkayakcoaching.com, for predominantly sea kayaking please contact rick@britishseakayaks.co.uk
What is not included that I will need to budget for?
Your ferry fee, sustenance, camping and adequate insurance.   For the overnight ferry you will need to book a reclining seat or more.  For the day time ferry you will not have to book a seat etc unless you choose to.  We would recommend that you go in your own vehicle to allow yourself flexibility.  If you wish to share one of our vehicles, or split the cost with another client please get in touch with us.
Download a pdf with all this info here.
We're already excited and we know this trip is going to fill up quickly for sure. Don't delay - book now!
J-P and Rick
2017 Symposiums
Each year the symposiums are growing in popularity. In 2017 we had a record number of participants: over 40 people across the 3 events. Feedback has been very positive and we hope to continue this record of success into 2018. View the many video clips of people putting their coaching into action on our Facebook page.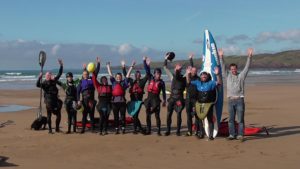 Cornwall Symposium June 2016
The first Surf Kayak Symposium was a huge success.
The sport is becoming more popular again, and the symposium takes away the pressure of any competition, allowing all levels to comfortably enjoy it.
The concept:
'A safe place where people can be introduced to, and/or improve their surf kayak performance with groups small enough to make a personal difference.'
It was our second attempt at running the SKS (SW), which did not bode well, as it was now June, close to the longest night, when swell is known to be less reliable.  However, based on the forecast we made the decision for it to run…  And keen surf kayakers came from far and wide (including a nightmare 8 ½ hour journey from Swansea for Ride Kayaks, Chris Hobson) to work on increasing their performance and to check out what this part of Cornwall has to offer.  Yes, you already know - sun, surf and scrumptious pasties!
The Coaches and location
Pete Blenkinsop (author of Sitting in the Green Room and English Squad member), Steve Bowens (H2O Training and Ex Squad member), and John-Paul Eatock (Level 5 Surf and Sea coach and Surf Kayak Coaching.com Director) were the coaches for the weekend, very proficiently supported by the coaches of the future, Glen Scott, Dylan Petherick and Torran James (thanks chaps).
In the far west of Cornwall, there are a range of beaches to choose from, facing all directions of the compass, to allow us to find the best waves for the group. All within 20 miles drive from our base at Beachside Holiday Park.  As well as St. Ives bay, the beach literally at the 'bottom of the garden' from Beachside. The surf did not disappoint (phew!), with choices of beaches being used from 1 foot to about 4 foot during the weekend.
The Event (best seen through the pictures!)
As you can imagine, there were a lot of happy and tired people by the end of each day, slightly (!) sunburnt and ready for an early night. After an evening with some presentations about the History of Surf Kayaking, by Pete, and Surf Forecasting by J-P, plus a phenomenal quiz that taxed and teased our brains, we went to bed with aching bodies and waves playing on the back of our eyelids.
Thankyou's
Thanks very much to the British Canoeing South West Regional Development Team, for their support and promotion, Ride Kayaks and Kernow Kayaks for supporting the event with a range of surf kayaks to look at and try.  Surf Kayak Coaching have been left some Ride Kayaks for you to try- please get in touch. Thanks also to Perception who donated the prizes for the quiz as well as for surf kayaking.
Jp, Annette, Steve and the team @ Surf Kayak Coaching